Outdoor Storage Covers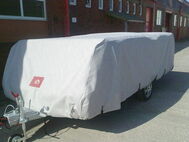 Part number:
AC.OSC-LGE-08

Part number:
AC.OSC-MED-08

Part number:
AC.OSC-SMA-08
In addition to our comprehensive range of Campers and accessories, we also offer a range of Outdoor Storage Covers to protect your Camper or Trailer Tent from the elements.
We are supplied by the market leader in protective covers. The fabric has been sourced specifically for the requirements of a long-lasting, quality product. The fabric used is waterproof, breathable, UV stabilised and has a soft inner lining. Unlike many other covers available, these qualities ensure your new storage cover won't let water through, trap moisture under the cover, disintegrate in the sun or damage windows or paintwork.
Unlike many lesser quality products the fabric used in the covers has a patented breathable middle layer. Tests have shown that this is more breathable than other fabrics available. Due to this, any moisture trapped under the cover, or natural moisture within the air, is able to breathe out through the fabric and won't be trapped, removing the risk of condensation, mould or mildew.
They are designed to be an all-year round cover. With its UV stability, you are able to keep the cover on throughout the summer, as well as winter should you wish to.
The fabric is waterproof up to 1metre of water, meaning 1 metre depth of water can sit on top of the fabric before any moisture will seep through. This provides an extremely strong protection from water ingress, but still allows the cover to have its breathability, giving you the peace of mind that your Folding Camper is not going to sweat under the cover. It is impossible for a cover to be both 100% waterproof and breathable.
The size of these is very much dependant on your particular camper so please see below for model details.
Large Outdoor Storage Cover
Pennine
Pathfinder - All years
Conway
Crusader - All years
Cruiser - 2008 onwards
Medium Outdoor Storage Cover
Pennine
Pullman - All years
Sterling - All years
Sovereign - All years
Continental - All years
Conway
Cruiser - upto 2008
Small Outdoor Storage Cover
Pennine
Fiesta - All years
Conway
Countryman - All years